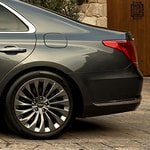 The Genesis G90 is a new entry in the luxury, full-sized car segment. This vehicle brings a new level of power, comfort and safety to the automotive world. Here is a sample of the advanced safety features now available in this year's Genesis G90.
To ensure that the driver always knows where nearby moving traffic is located, the Genesis G90 comes equipped with Smart Blind Spot Detection. This safety feature alerts the driver of any vehicle in the blind spot area. Smart Blind Spot Detection can also alert the driver of any fast approaching vehicles. The Genesis G90 is uniquely equipped to analyze driving patterns and help the driver stay alert on the road. With Driver Attention Assist, the G90 will be able to issue visual and audio alerts if driver fatigue is detected.
Genesis of Amherst invites you to test drive the Genesis G90 today. Our sales team will show you the all amazing features available on the G90.